Saturday, March 04, 2006
My pantry
We live in a 125yr old Victorian house. Most of the time I love it, but when it comes to the kitchen it's sorely lacking. I have no cupboards in my kitchen and the only counter I have is a 18" x 4' peice of formica someone attached to a wall between two doorways. Thankfully, we do have a butlers pantry. Two walls of cupboards & drawers from floor to ceiling...nine feet high. Yes, I use a step stool quite often.

So I thought I would give you an idea of what my pantry looks like. One one side, I keep all my dishes, pots & pans. On the other side of the pantry is the food cupboards: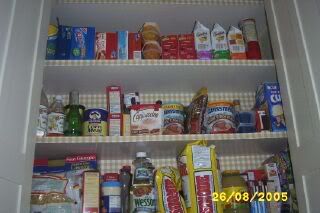 Notice the very top shelf. That is my convenience food stock. Goldfish crackers, applesauce cups, granola bars. Those are all items I was able to buy for pennies or got for free with coupons or from the damaged grocery shelf. The Swiss Miss Hot Chocolate cans are misleading. One is filled with confectioner's sugar, the other is filled with homemade hot cocoa mix.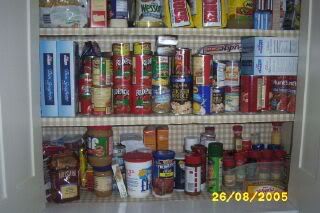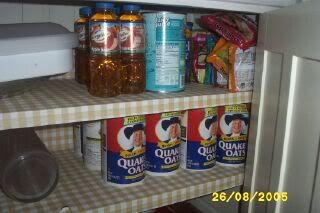 We also have two refrigerators and a chest freezer as well as plastic shelving in the basement, but I have no pictures of those. I am trying to talk my husband into selling one of the refrigerators. It's a side by side and I detest that thing. It's so deep things get lost in it, the freezer leaves a lot to be desired. But I digress.

My point is, you don't have to have a lot of room to have a stockpile. I've heard of people using plastic under-the-bed bins to store dry goods or making an end stand out of 5 gallon buckets filled with flour or rice. I'm really not one for storing food outside of my kitchen. The basement is as close to branching out my food storage areas as I get lol. But if it works for you, go for it!

Having a stockpile is invaluable. It doesn't have to be 'in case of national emergency'. My stockpile recently came in handy when we had an unexpected loss of income. I was able to feed my family for 6 weeks on my stockpile...only shopping at the store for milk and parishables and a few odds & ends to compliment a recipe or what have you.

Don't feel overwhelmed with the idea that you have to go out and buy a ton of food right now. Start out small. Give yourself a budget of $5-10 to stock up on something. Make a goal....this week, I'll buy 5 extra cans of tuna...next week I'll buy an extra bottle of laundry detergent (because a stockpile isn't just about food...even though this is Frugal Food).

Try it!


Hot Cocoa Recipe
1/2 c. cocoa
3/4 c. sugar
3 c. powdered milk
Dash of salt

Sift all ingredients together and store in a cool, dry place.
When ready to use, add 2 tablespoons mix to each 4 ounce cup of boiling water.
posted by Heather @ 8:33 AM

About Me
Name: Heather
Home: New York, United States
About Me: Mom to four kiddos. Love to cook, knit, crochet, read, and playing on the computer.
See my complete profile
Previous Post
Archives
My Button

Please host button on your own server
Sponsor
Links
Powered by