Saturday, October 07, 2006
Frugal Food button
I created a button for those who would like to link to me on their own blogs/websites :) Please host the picture on your own server (no hotlinking please). If you need help on how to link me w/ the button, let me know & I will help you :-)

The button is on the right-side of the page and right here:


posted by Heather @ 6:50 AM

Friday, October 06, 2006
Homemade "Fast" Food
One of the biggest chunks out of the American family's budget is eating out. Families eat out for a variety of reasons. I know when my family succumbs to take-out it's usually for one of three reasons:

1. Lack of planning. I forgot to take something out or didn't shop properly and forgot an ingredient.
2. Too tired to cook. There are some days when chasing four kids (three dogs, three cats, & one husband)

wear me out!!

I just do not feel like standing in front of the stove and cooking for the heathens too lol. And let's not forget the days when mom is sick. There are no sick days for mom!
3. Not enough time. Activities have run longer than expected or something extra has popped up to keep me from the kitchen at dinner time.

I try plan for these unplanned issues. I know I can't plan for something if I don't know it's going to happen, but I try to plan a few "just in case" or quickie meals to have on hand for days where it's so tempting to just eat out or order deliver.

I try to keep in my freezer or pantry things like chicken nuggets, boxed macaroni & cheese, frozen pizzas, etc. While these are not "frugal" per se, they are MUCH cheaper than going to a restaurant or ordering delivery. Plus, if you find these quickie meals on sale or cheap with a coupon...even better.

Sometimes we just want take-out. It's not always a matter of time or energy. Sometimes we just WANT IT. For times like that, I try to make it at home as much as possible. Pizza, I try to make homemade or at the very least frozen. My family LOVES asian foods. Stir fry, fried rice, egg rolls. The first two are easy because they can be made with leftovers. The egg rolls require a little more planning before hand but they can still be made LOTS cheaper than you can get them at the Chinese restaurant (and you know what kind of environment they were made in...a CLEAN one! this goes for any restaurant, not just Chinese places).



Egg Rolls w/ Homemade Sweet & Sour Sauce


Shrimp Egg Rolls
(w/ homemade sweet & sour sauce!)

4 1/2 t cornstarch
1/2 C sugar
1 C pineapple juice
1/2 C white vinegar
2 T ketchup
1 t soy sauce
1 can (6oz) small shrimp, rinsed & drained OR 1 C frozen small cooked shrimp (salad shrimp)
1 can chopped water chestnuts, drained
1 can bamboo, drained
1 (16oz) bag cole slaw mix
1 T sesame oil
1/2 t pepper
1/4 t salt
24 egg roll wrappers
Additional oil for deep-fat frying

For sweet & sour sauce, combine cornstarch, sugar, pineapple juice, vinegar, ketchup, and soy sauce, in a saucepan until smooth (I used a wire whisk). Bring to a boil, cook and stir for 1-2 mins or until thickened. Remove from heat and set aside.
In a large skillet, stir fry the shrimp, water chestnuts, bamboo,and cole slaw mix in oil until crisp-tender; cool slightly. Stir in salt & pepper. Position egg roll wrappers w/ long edge facing you. Spoon 1/4 C of shrimp mixture on the bottom third of each wrapper. Fold bottom over filling; fold sides over filling toward center. Moisten top edge w/ water to seal.
In a deep saucepan, electric skillet or deep-fat fryer, heat oil to 372*. Fry egg rolls a few at a time for 4-5 mins or until golden brown. Turning often. Drain on paper towels. Serve w/ sweet & sour sauce.
2 dozen egg rolls

==================================

Let's break it down by price. The cheapest I have seen egg rolls in a take-out place is $1 each. Let's see how much the homemade version adds up to.

Shrimp

$1.50


Water chestnuts

$0.65


Bamboo

$0.65


Cole slaw mix

$1.30


24 Egg roll wrappers

$1.40


Total:

$5.50


Each:

$0.23



Now I didn't add in the minimal cost of the oil, salt & pepper but even adding that in and the sweet & sour sauce doesn't add up to $1 per egg roll. You can easily substitute leftover cooked chicken, pork, or beef for the shrimp and cut the cost down even more.

Don't they look yummy?

posted by Heather @ 1:35 PM

Saturday, September 23, 2006
Homemade Hot Pockets
I use my Homemade Yeast Rolls recipe and instead of making them into rolls, I flatten the rolls with a rolling pin, making a small circle. Then I put the filling (broccoli & cheese/pizza sauce, pepperoni, & mozzarella/cooked hamburger, cheddar cheese, ketchup & mustard) in the middle. Fold the circle in half and pinch the edges closed. Bake at 350* for about 25mins until edges start to turn golden.

You can fill these with almost anything. Leftovers like meatballs, chili, etc. Even fruits or scrambled eggs & bacon/sausage for breakfast ones.

I've also made these with a from scratch crescent roll dough from Tawra Keller's Not Just Beans cookbook. They are delicious too!
posted by Heather @ 3:43 PM

School lunches (revisited)
I've covered this topic briefly, but now that school is back in session I wanted to go a little more in depth. School lunches can be hit or miss these days when it comes to nutrition. I know they are mandated by the government to be "healthy", but when I look at my younger children's menu and for five days it's: chicken nuggets, pizza, cheeseburger, grilled cheese, and tacos, that's not exactly my idea of nutritious!

So here are some ideas I use for my kids school lunches:

Bagels & cream cheese - I toast them and spread some cream cheese on them before wrapping them up.

flour tortilla with ham or turkey rolled up. mayo or cream cheese?

cold pizza. I know. Ick. But my kids like it!

chicken patty sandwich. My kids LOVE these. I buy those frozen chicken patties. Heat them in the micro (so they aren't frozen anymore), slap one between a hamburger bun and wrap it up. They eat them cold!

Finger foods or make your own lunchable. Crackers, cheese, carrot sticks.

pasta salad

macaroni salad

hard boiled eggs

cold chicken

chicken/tuna salad (on a variety of breads, pita, sub rolls, whole grain breads, tortillas, english muffin, hamburger/hot dog rolls, etc)

"sub" sandwiches - lunch meat & cheese w/ lettuce & tomato on a hot dog bun

soup, mac & cheese, spaghetti Os in heated thermal containers

Hot dog in a thermos of Hot Water (to keep it warm) and a hot dog bun w/ ketchup packets (saved from To Go restaurant bags) in a baggie

My kids also like the individual applesauce cups, the colored ones so I bought a bunch of those little gladware cups w/ tops and send then with jarred applesauce w/ a few drops of food coloring added. They love it!

They like those yogurt tubes...if I can get them on sale CHEAP. Sometimes I freeze them so they have a sort of "popcicle" at lunch.

Our kids have to bring water bottles to school (something about the spreading less germs by not using the drinking fountains...works for me). This year we bought water bottles that have freezable inserts so if we want to send juice or gatorade (for after gym) the ice doesn't dilute it and I don't have to worry about it not being thawed enough for them to drink it all

TIP: keep the cut up apples (and other fruits) from browning by dipping them in lemon juice (I use the bottle ReaLemon) it really works and it doesn't make the apples taste lemon-y

I also make homemade hot pockets when I'm feeling particularly ambitious. Pizza, cheeseburger, broccoli & cheese, etc. Recipe to follow :)
posted by Heather @ 3:29 PM

Thursday, March 09, 2006
It's not delivery
And it's not DiGiorno either.
It's homemade!! Doesn't it look delicious??!!



My family loves pizza. But for the six of us to order pizza in, it usually runs us $30 to 50 depending on what kinds of sales the pizza shops have going on. Homemade pizza costs me a grand total of $5.95 for three pizzas. I probably could have gotten that down by another dollar or so had I made the pizza dough from scratch. But I'm really not that great at it and our Super Walmart sells dough balls for 65cents each. Three of them do our family just fine. They are about the size of a Pizza Hut medium pan pizza, at a fraction of the price!

First I let the dough balls come to room temperature, then I rolled each one out on a lightly floured surface and tossed them in the air a few times (optional, I just happen to have a knack for it) before spreading it onto a pizza stone sprinkled with cornmeal. Then I spread some cheap pasta sauce, sprinkled some more spices like garlic, oregano, and red pepper flakes, sprinkled on some shredded cheese (just a note about the cheese, I have discovered that if you buy a brick of mozzarella and shred it with your food processor or hand grater, it melts MUCH better than the pre-shredded store stuff), threw on some slices of pepperoni and baked them in my oven on 450*F for 20 minutes. Yummy, ooey gooey hot pizza without forking out half a weeks worth of grocery money :)

Here's a close up of the ooey gooey goodness :)


Mmmmmmmmmmmmmmmmmmmmmmmmm
posted by Heather @ 4:45 PM

Saturday, March 04, 2006
My pantry
We live in a 125yr old Victorian house. Most of the time I love it, but when it comes to the kitchen it's sorely lacking. I have no cupboards in my kitchen and the only counter I have is a 18" x 4' peice of formica someone attached to a wall between two doorways. Thankfully, we do have a butlers pantry. Two walls of cupboards & drawers from floor to ceiling...nine feet high. Yes, I use a step stool quite often.

So I thought I would give you an idea of what my pantry looks like. One one side, I keep all my dishes, pots & pans. On the other side of the pantry is the food cupboards: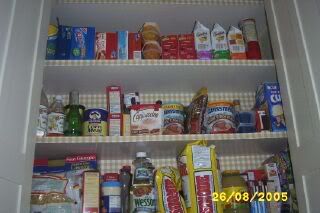 Notice the very top shelf. That is my convenience food stock. Goldfish crackers, applesauce cups, granola bars. Those are all items I was able to buy for pennies or got for free with coupons or from the damaged grocery shelf. The Swiss Miss Hot Chocolate cans are misleading. One is filled with confectioner's sugar, the other is filled with homemade hot cocoa mix.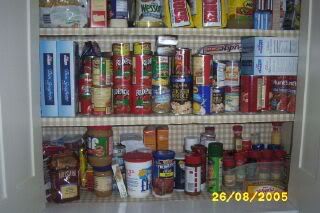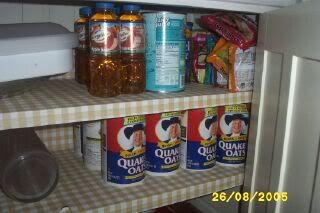 We also have two refrigerators and a chest freezer as well as plastic shelving in the basement, but I have no pictures of those. I am trying to talk my husband into selling one of the refrigerators. It's a side by side and I detest that thing. It's so deep things get lost in it, the freezer leaves a lot to be desired. But I digress.

My point is, you don't have to have a lot of room to have a stockpile. I've heard of people using plastic under-the-bed bins to store dry goods or making an end stand out of 5 gallon buckets filled with flour or rice. I'm really not one for storing food outside of my kitchen. The basement is as close to branching out my food storage areas as I get lol. But if it works for you, go for it!

Having a stockpile is invaluable. It doesn't have to be 'in case of national emergency'. My stockpile recently came in handy when we had an unexpected loss of income. I was able to feed my family for 6 weeks on my stockpile...only shopping at the store for milk and parishables and a few odds & ends to compliment a recipe or what have you.

Don't feel overwhelmed with the idea that you have to go out and buy a ton of food right now. Start out small. Give yourself a budget of $5-10 to stock up on something. Make a goal....this week, I'll buy 5 extra cans of tuna...next week I'll buy an extra bottle of laundry detergent (because a stockpile isn't just about food...even though this is Frugal Food).

Try it!


Hot Cocoa Recipe
1/2 c. cocoa
3/4 c. sugar
3 c. powdered milk
Dash of salt

Sift all ingredients together and store in a cool, dry place.
When ready to use, add 2 tablespoons mix to each 4 ounce cup of boiling water.
posted by Heather @ 8:33 AM

Friday, February 17, 2006
The Art of Substitution
What do you do when you want or need to make something but you go to your pantry only to find you've forgotten to buy an ingredient or someone has eaten it already? Or in my case, your 4 year old has taken the last three eggs and tried to make an omelet on his bedroom floor LOL!

Do you give up and just not make anything?
Do you go to the store for that one ingredient...invariably ending up with a cartful of stuff you didn't need as you walk out of the grocery store?
Or do you make do? Do you find another way to make what you wanted without the actual ingredients?

When I'm in the kitchen, it's a science experiment a lot of the time. I'm throwing in this and that...usually these recipes are the best. The only problem is, I can never duplicate it exactly lol. This past week, I have substituted or creatively cooked a couple of times. I thought they would be helpful or at least inspiring to others to branch out and try something different. Don't be afraid to experiment!

First it was Valentine's Day. We don't do a whole lot on V-Day. There are no boxes of chocolates, to extravagant gifts, etc. Just a card, maybe. But every year I make a heart-shaped cake. The only problem was I had no eggs. The day before my 4yo did as I previously mentioned. He swiped the last 3 eggs out of the fridge and tried to make an omelet on his bedroom floor (while his father was "watching" him....). So I needed to make a cake, from scratch, but I had no eggs. While brainstorming, I remembered my grandmother used to make a cake without eggs called "mayo cake". I remembered it to be the very first from scratch recipe I ever made. I remember my aunt & uncle pulling my leg and telling me that 'from scratch' meant I had to scratch myself after adding every ingredient. Yes, I was that gullible. I was only six lol.
Anyway, so I got on my trusty computer and googled mayo cake. Literally TONS of recipes popped up. I selected one that most fitted my needs. One that didn't call for eggs and was basically a chocolate cake mad with mayonaisse. No frills no fancy stuff, just Chocolate Mayo Cake .

Along the same theme of substitution...I do not own a heart-shaped cake pan. I have a square 9"x9" brownie pan and a round 9" cake pan. I divided the batter, half in each pan and baked them according to the directions (one 9x13" recipe will fit these two pans as well, if the recipe says to use smaller pan, you may need to double the recipe). When the cakes were done and cool, I first inverted the square pan so that it was "diamond" shaped rather than square. Then I cut the round cake in half (while still in the pan). Then I turned it upside down and while holding half so that it stayed in the pan, I dropped half of the round cake into my hand and placed it along one of the top straight edges of the square-turned-diamond cake. I did the same with the other half of the round on the opposite side of the square-turned-diamond cake.

So it looks like this:


(disregard the date...every time the battery on my digital dies, the date needs to be reset! what a pain)

Then I frosted it like I would a usual cake. I wouldn't recommend the glaze that is at the bottom of the above linked chocolate mayo cake for this heart-shaped cake. You really need a thick frosting so you can cover and hide the seams where the round and square cakes meet.

The cake was delicious, moist, and tasted nothing like mayonaisse lol.


Another instance this week where I creatively cooked was just last night. Our weather turned very cold and blustery and everyone felt like soup. I didn't have soup on the menu because we had just had chicken stew & dumplings a few days prior. But everyone was adamant, soup was what they wanted. So I scavaged through my refrigerator. I found leftover chicken (from a whole chicken), chicken gravy (made from the broth of the whole chicken carcass) and the leftover chicken stew w/ the dumplings in it (which was also full of peas, green beans, corn, carrots, and mushrooms). I said what the hay, why not. I threw it all in the crockpot with a couple of potatoes and a little bit of extra water to thin it out a bit. By the time dinner rolled around, the dumplings had "melted" and helped to thicken the soup, which it did not need. So I added more water and stirred. We ended up with THE BEST chunky chicken soup I have ever made. And I don't like chicken soup lol! I coupled this meal with my homemade yeast rolls and everyone left the table stuffed. There were no leftovers last night!


So go ahead. Try something new, experiment, have fun!!
posted by Heather @ 4:31 PM

Sunday, January 22, 2006
Turkey Talk
Yes, I realize the holidays are over and most people don't even want to think about turkey. But read this, then keep it in the back of your mind for next year.

When turkeys go on sale before and after Thanksgiving, why not buy a couple of extra beyond what you need for Turkey Day? They keep in the freezer for a year or more and are very versatile. I bought a 23lb turkey the day after Thanksgiving for $9.00...that works out to 39cents/lb. I can't even get chicken that cheap anymore. I bought it with the intention of cooking it and using it in recipes that call for chicken.

The other day I roasted the turkey and we had a mini Thanksgiving dinner with all the fixin's (except cranberry sauce...forgot it lol). I made gravy with the drippings from the bird and ended up with a gallon of gravy, no joke! Homemade gravy is the best! I just bring the broth/drippings to a boil, then mix some corn starch w/ cold water and add it to the broth. Bring it to a boil again and stir until thickened. If it's not thick enough, add a little more cornstarch/water mixture.

After dinner I went out to the kitchen and picked that bird clean. I got seven freezer bags with 2 cups of turkey in each bag. But I wasn't done yet!

After picking as much off the bones as I could, I put the carcass in a big pot and covered it with water. I added a little bit of thyme, onion, garlic, salt & pepper to the water and let it simmer for 2-3 hours until there was nothing left on the bones and I had a yummy thick broth. This broth is nothing like broth you buy in a can or like that turkey soup by those name brands. This is thick and golden and smells heavenly!!

To get the bones out of the soup broth (because that's where this is going, turkey soup) I use one of two methods. I either get another big pan and set my collander inside it and pour the hot broth into the collander. The bones collect in the collander and the broth goes through into the second pan. Most of the time I don't feel like dirtying an extra pan and the collander. So I just use a slotted spoon to scoop out all the bones. Just be careful with this method that you get all the little bones & gristle out of the broth.

After I take the bones out of the broth, I let them cool and after they are cooled I pick whatever stubborn peice of meat are still stuck on the bones off and toss it into the broth. Any peices of meat that cooked off the bones and got strained out of the broth either in the collander or with the slotted spoon toss back into the broth. Now you can throw in a cup or two of leftover veggies and a cup of rice and voila! You've got turkey & rice soup for later in the week. I would probably wait to add the rice until you've reheated it to eat, otherwise the rice kind of "melts" into the soup.

But what about those other seven portions of turkey?
I'm making:
Turkey enchiladas
chopped turkey mixed w/ a can of cream of chicken soup (or homemade cream of soup), a can of rotel. Spoon mixture into flour tortillas, roll up and place seam side down into a baking dish. Pour a can of green enchilada sauce over the tortillas, sprinkle with cheese. Bake at 350* for 15-20 minutes.

Turkey & gravy over mashed potatoes, w/ veggies
Add chopped turkey to the leftover gravy. Serve over mashed potatoes w/ veggies on the side or mixed in.

Turkey Tetrazini
Spaghetti noodles (cooked & hot), chopped turkey (reheated in the micro), mixed veggies (cooked & hot), and cream of chicken soup (or homemade). Mix together. Maybe a sprinkle of cheddar cheese on top.

Ranch Turkey Pasta
Chopped turkey, penne pasta (or any other tube pasta), dry ranch dressing mix, butter or margarine, 1lb bag peas & carrots. Cook pasta according to pkg directions. Cook peas & carrots according to pkg directions. Reheat turkey in the microwave until warmed up.
When pasta is done, melt butter/margarine (about 2-4 tablespoons) in a frying pan. Mix in ranch dressing. Pour immediately over the pasta, mix in turkey & veggies. Sprinkle with a little grated parmesan cheese. Serve immediately.

I'll also leave out a bag in the fridge for sandwiches. Maybe I'll make a turkey pot pie. But the important thing is to spread these meals out over several weeks' time. I plan on spreading these meals out over 6-8 weeks so my family doesn't turn into little turkeys :)
posted by Heather @ 5:42 PM

About Me
Name: Heather
Home: New York, United States
About Me: Mom to four kiddos. Love to cook, knit, crochet, read, and playing on the computer.
See my complete profile
Previous Post
Archives
My Button

Please host button on your own server
Sponsor
Links
Powered by